Bradshaw Reunion Time


We had a great time visiting with cousins at the reunion. We moved indoors because of the rain and had about 89 present but still had plenty of room. We had two 1st generation present - Wayne Patterson and June Bradshaw. We also had three new Bradshaws present - Mason Scott Day, Jada Elizabeth Pruitt, and our newest, Caleb Thomas Cantway.


Missed some cousins but enjoyed talking to the ones there and even met a few new folks.
Make corrections to sign in List

More pics
---------------------
Susan Bradshaw Brooks describes the Grammy that I and I'm sure many cousins remember.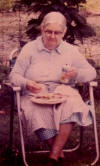 My ancient little gray-haired "Grammy," Bertha Bradshaw, had outrageously ambitious plans. Grammy had a dozen children, but she lost three of them to childhood illnesses. She and Grampy raised my dad, his seven sisters, and his one brother on a farm in Grayson County Kentucky. The Grammy I remember from my childhood in the 1970s always wore a homemade calico print dress with an apron over it. Read more
---------------------
Verse for the day
Blessed are you when people insult you, persecute you and falsely say all kinds of evil against you because of me. Rejoice and be glad, because great is your reward in heaven, for in the same way they persecuted the prophets who were before you. Matthew 5:11-12 NIV BibleGateway.com/